Hempstead Intersection Street Former MGP Site -
Remedial Progress
Week Ending January 13, 2012
Batch Plant
Drilling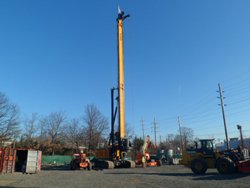 Drilling Rig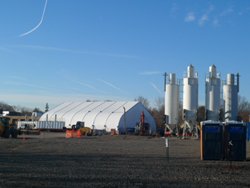 Tent and Batch Plant
National Grid's contractor (Entact LLC) started mobilizing for the In-Situ Solidification remediation phase for the Hempstead former Manufactured Gas Plant site on October 3, 2011. The latest site activities have included the final delivery of the Deep Soil Mixing (DSM) equipment. Excavation was completed in the first area, and the first move of the onsite temporary containment building (TCB) was made to the second excavation area where on site excavation work continued for loading and offsite disposal. DSM equipment setup was completed and the DSM testing program began; ongoing modifications and evaluations are progressing to adjust the soil solidification process going forward. The DSM testing phase is expected to be completed near the end of February, and the DSM work will begin when the DSM process is ready for full scale implementation. Excavation and off site transportation and disposal is continuing while the DSM testing program is ongoing.
A Fact Sheet summarizing the project and potential impacts to the community was previously sent to the community to summarize the work. The Fact Sheet and the finalized Remedial Action Work Plan can also be found in the Key Documents/Major Reports section of this website. A link to the Fact Sheet can be found below.
As work proceeds, the web site will be updated periodically to ensure the community is informed of the project progress and schedule.